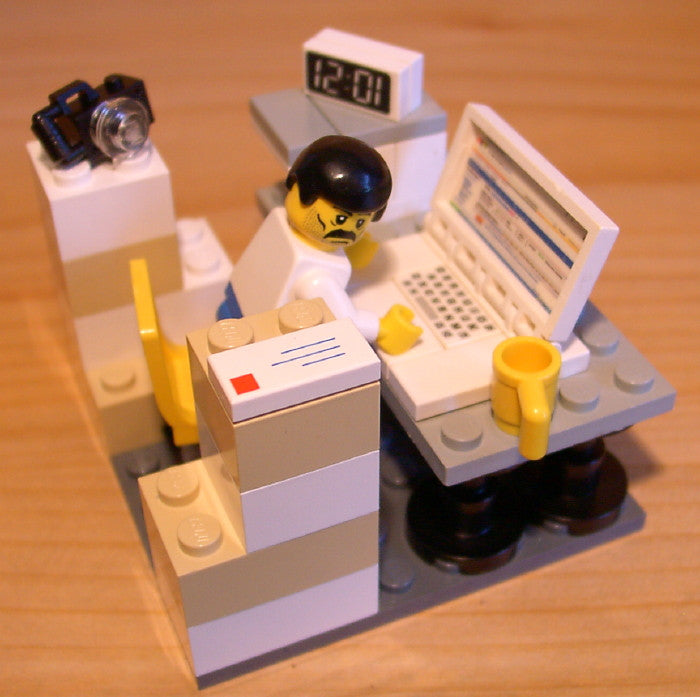 Dan's Custom Weary eBay Seller (for your LEGO town)
Dan designed this little set way back in 2008 or so, when he was still in the early stages of experimenting with selling his custom sets in eBay's auction format. Over the years he ended up selling hundreds to fellow eBay sellers who appreciated the humor. Add it to your LEGO® collection, or display it on your desk!
Includes weary entrepreneur minifig, camera, piles of packages, and work desk with laptop, printer, clock (it's past midnight!), and essential coffee mug.
Set measures a compact 2.5" wide by 2.5" deep by 2" high.
If you prefer a female face & hair, ask Dan about personalizing the minifig.
Ships assembled, with no instructions, and ready to clean out all the yard sales in your LEGO town!
For fun, here's some of the original description from those early eBay auctions:
This poor guy has spent too many late nights watching his auctions. He can hardly get to his computer because of all the stacked up boxes. He winces when he hears the words First Class International. And when the mail comes he's more excited about the reusable peanuts and bubble wrap than whatever came packed in them. Yep, he's definitely been at this for too many hours... so make his day, would ya, and at least "watch this item."
If you like the Weary eBay Seller, check out Dan's Donut Delivery Van and other unique custom sets. Your minifigs will thank you.
This is an original design available only from DADVENTUREDAN. Dan selects new & quality used LEGO® brand parts & adds custom decals protected with clear acrylic to build unique, fun additions to your LEGO® town or train layout. The custom decals are great for light play or display but won't withstand abusive handling or soaking in the tub. Your set will ship assembled & carefully packed, with no instructions.
IMPORTANT LEGAL STUFF: Sets contain small parts & are unsuitable for children under three due to choking hazard. LEGO® is a trademark of the LEGO® Group of companies which does not sponsor, authorize or endorse Dan's fan-built custom creations.