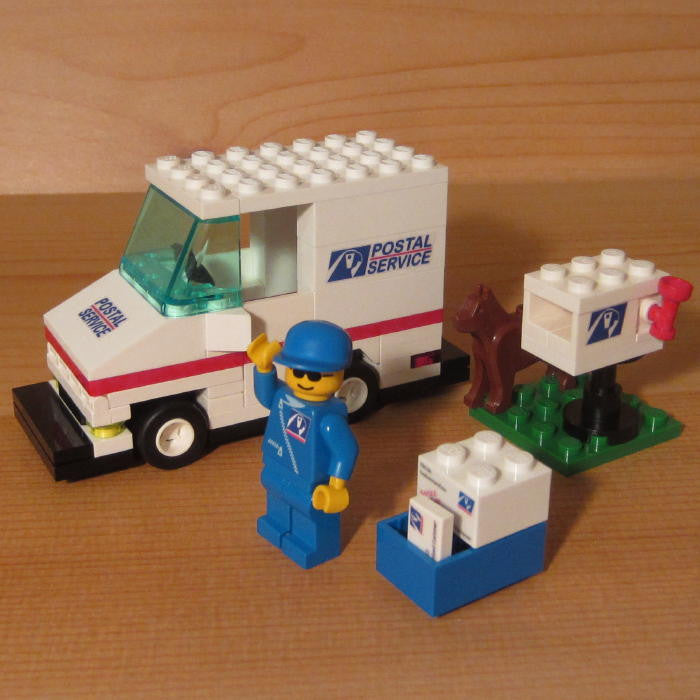 Dan's Custom Postal Vehicle Set (for your LEGO town)
$ 29.50
Currently sold out
Dan designed the first version of this set way back in 2005, which makes it one of his earliest (and most popular) custom LEGO® creations!
Back of the LLV truck features a hatch that swings up to unload the cool little bin of mail.
Front windshield/engine assembly hinges up for access to the driver's seat.
Includes hard working postal worker minifig, custom mailbox & friendly neighborhood dog.
Makes a great gift for a letter carrier or postal service family member; ask Dan about personalizing it with truck number decals and/or a female minifig face.
Vehicle measures about 3.5" long by 1.5" wide by 2" high.
Ships assembled, with no instructions, ready for play or display!
If you like the Postal Vehicle, check out Dan's matching Post Office & Postal Pack. Thanks for looking!
This is an original design available only from DADVENTUREDAN. Dan selects new & quality used LEGO® brand parts & adds custom decals protected with clear acrylic to build unique, fun additions to your LEGO® town or train layout. The custom decals are great for light play or display but won't withstand abusive handling or soaking in the tub. Your set will ship assembled & carefully packed, with no instructions.
IMPORTANT LEGAL STUFF: Sets contain small parts & are unsuitable for children under three due to choking hazard. LEGO® is a trademark of the LEGO® Group of companies which does not sponsor, authorize or endorse Dan's fan-built custom creations.