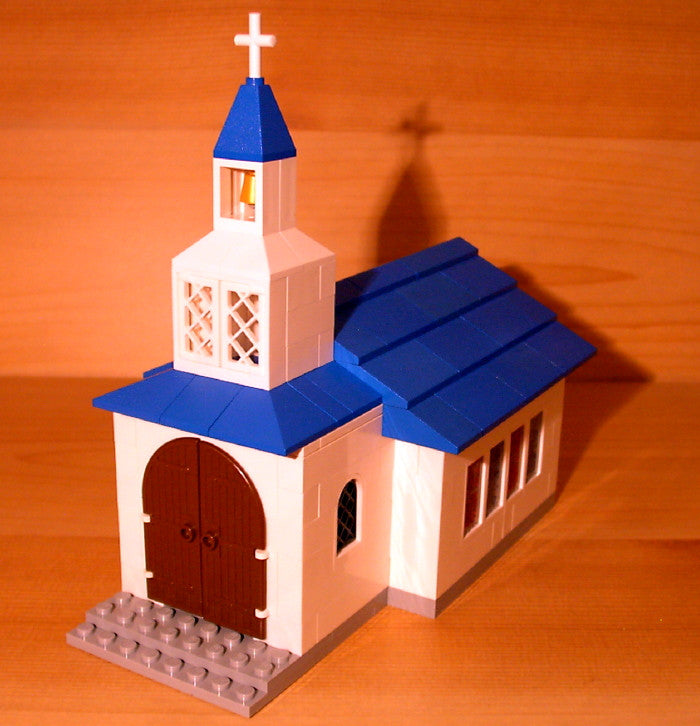 Dan's Custom Church Building Chapel (for your LEGO town)
$ 97.50
Currently sold out
Here's one of Dan's favorite custom creations, designed in 2010 upon the request of a customer for her LEGO® Christmas village. "Every village needs a church," she said.
Details include four pews for minifig seating, reversible banners (Peace, Joy, Hope, Grace), pulpit with tiny Bible, even a church bell in the steeple.
Dan paid special attention to the custom "stained glass windows," which feature meaningful Christian symbols depicted in the styles of recognizable LEGO® parts.
The pulpit Bible features (very tiny) text from Ephesians 2, and includes the phrase "we are God's workmanship." (The Greek word translated workmanship is poiema & carries the meaning of an artist's creation, which means... God likes to build stuff too!)
Roof & walls separate into four sections for easy access to the interior for set-up or play.
Please note the building measures about 4" wide by 7" deep be 7" high. Like all Dan's custom creations, this is not a huge structure but has a lot of features packed into a compact footprint.
Ships assembled, with no instructions, ready for play or display!
If you like the Church Building, check out Dan's other unique creations, including the Cemetery Set & Barber Shop. Your minifigs will thank you.
This is an original design available only from DADVENTUREDAN. Dan selects new & quality used LEGO® brand parts & adds custom decals protected with clear acrylic to build unique, fun additions to your LEGO® town or train layout. The custom decals are great for light play or display but won't withstand abusive handling or soaking in the tub. Your set will ship assembled & carefully packed, with no instructions.
IMPORTANT LEGAL STUFF: Sets contain small parts & are unsuitable for children under three due to choking hazard. LEGO® is a trademark of the LEGO® Group of companies which does not sponsor, authorize or endorse Dan's fan-built custom creations.