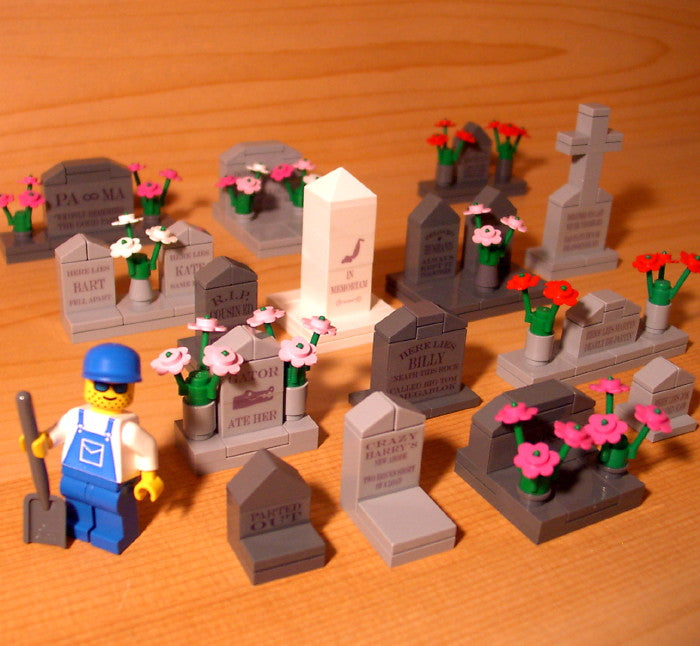 Dan's Custom Cemetery Set A (for your LEGO town)
$ 49.50
Currently sold out
Dan first designed this unique little set in 2011, by asking himself: What would LEGO® minifigs put on their tombstones? If they ever died. Which they don't, of course. But what would they put?
During the set's development Dan got enough groans & eye rolls from his kids to be sure his LEGO® related humor was probably on the right track!
Includes fifteen tombstones with funny custom graphics & a friendly gravedigger minifig with shovel.
In case you can't make out all the photos, here's what Dan came up with for the grave marker inscriptions:
THIS HERE MARKER IS MAURICE'S, LEFT US TO PICK UP THE PIECES and GATOR, ATE HER
R.I.P. COUSIN ED, GREAT BIG BRICK FELL ON HIS HEAD
IN MEMORIAM (with a vacuum cleaner)
DODGED A TRAIN JUST FOR KICKS, HIT HIM LIKE A TON OF BRICKS
HERE LIES BILLY 'NEATH THIS ROCK, CALLED BIG TOM A MEGABLOK and HERE LIES MARTIN, DEARLY DE-PARTIN'
HERE LIES JOE, RELOADED SLOW
PA + MA, WE ONLY REMEMBER THE GOOD PARTS
CRAZY HARRY'S NEW ABODE, TWO BRICKS SHORT OF A LOAD
HERE LIES BART, FELL APART, HERE LIES KATE, SAME FATE
OOPS... and PARTED OUT (OK OK... so maybe Dan started to run out of LEGO related graveside humor. His kids would say, "What do you mean, run out? You never got started!")
BELOVED HUSBAND, ALWAYS KEPT IT TOGETHER, BELOVED WIFE, "I TOLD YOU MY JOINTS WERE LOOSE"
BREATHED HIS LAST, NEVER TREMBLED, HAD FAITH HE'D BE REASSEMBLED (Dan tried to come up with something appropriate for the tombstone with the cross.)
You'll probably need about 32x24 studs of baseplate space to set this up, depending on how closely you place the gravestones.
Dan will ship the tombstone assemblies wrapped in bubble wrap to hold them together; you can refer back to these photos should any minor parts come loose in transit.
Ships assembled, with no instructions, ready for play or display!
If you like Cemetery Set A please check out Cemetery Set B for more groan-worthy humor, & also Dan's Custom Church Building, which goes nicely with both. Your thankful minifigs will rest in pieces.
This is an original design available only from DADVENTUREDAN. Dan selects new & quality used LEGO® brand parts & adds custom decals protected with clear acrylic to build unique, fun additions to your LEGO® town or train layout. The custom decals are great for light play or display but won't withstand abusive handling or soaking in the tub. Your set will ship assembled & carefully packed, with no instructions.
IMPORTANT LEGAL STUFF: Sets contain small parts & are unsuitable for children under three due to choking hazard. LEGO® is a trademark of the LEGO® Group of companies which does not sponsor, authorize or endorse Dan's fan-built custom creations.