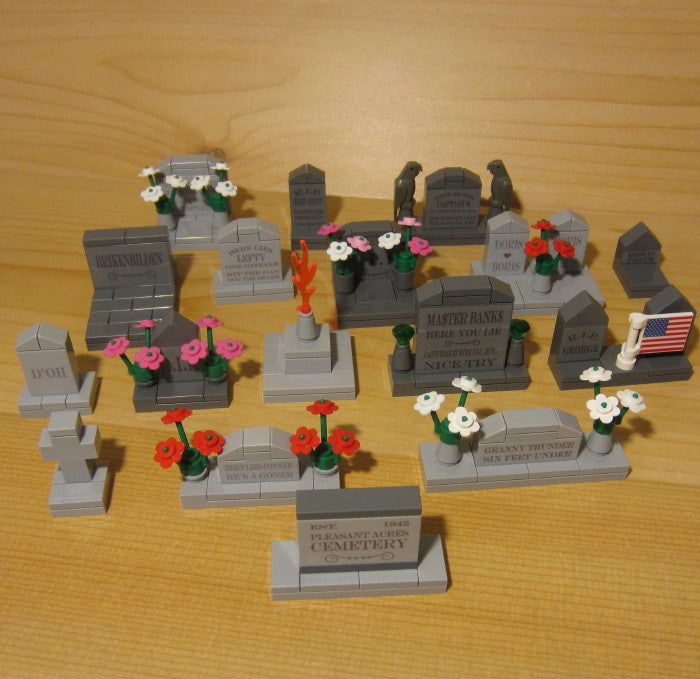 Dan's Custom Cemetery Set B (for your LEGO town)
$ 49.50
Currently sold out
Here's another unique custom set to help your LEGO® collection's minifigs rest in pieces!
Dan first created Set B for a customer who purchased Set A but wanted to build out his cemetery twice as big. Dan accepted the challenge of coming up with another batch of groan-worthy humor on a new variety of realistic tombstone sizes & shapes.
Includes fifteen tombstones with custom graphics, plus cemetery entrance sign & eternal flame.
In case you can't make out all the photos, here's the text of the grave marker inscriptions:
HERE LIES LEFTY, ONE MISTAKE, HIT THE GAS, NOT THE BRAKE
EST. 1842, PLEASANT ACRES CEMETERY (entrance sign)
R.I.P. HENRY HEWITT, WE ALL TOLD HIM NOT TO DO IT
R.I.P. and D'OH and BRICKENBILDEN
GRANNY THUNDER, SIX FEET UNDER
R.I.P. and MA$TER BANK$, HERE YOU LIE, CAN'T TAKE IT WITH YOU, BUT... NICE TRY
DORIS+BORIS, BORIS+DORIS and REST IN PEACE
HERE LIES CONNER, HE'S A GONER
HERE BE THE CAPTAIN'S WOODEN LEG, DON'T SMOKE NEAR THE POWDER KEG
ESCAPE THE TIGERS, DODGE THE GATORS, YOU CAN'T OUTRUN BRICK SEPARATORS
R.I.P. GEORGE, R.I.P. MARTHA
Dan will ship the tombstone assemblies wrapped in bubble wrap to hold them together; you can refer back to these photos should any minor parts come loose in transit.
Ships assembled, with no instructions, ready for play or display!
If you like Cemetery Set B please check out Cemetery Set A for the original silly LEGO® related graveside humor, & also Dan's Custom Church Building, which goes nicely with both. Your minifigs will (posthumously) thank you.
This is an original design available only from DADVENTUREDAN. Dan selects new & quality used LEGO® brand parts & adds custom decals protected with clear acrylic to build unique, fun additions to your LEGO® town or train layout. The custom decals are great for light play or display but won't withstand abusive handling or soaking in the tub. Your set will ship assembled & carefully packed, with no instructions.
IMPORTANT LEGAL STUFF: Sets contain small parts & are unsuitable for children under three due to choking hazard. LEGO® is a trademark of the LEGO® Group of companies which does not sponsor, authorize or endorse Dan's fan-built custom creations.