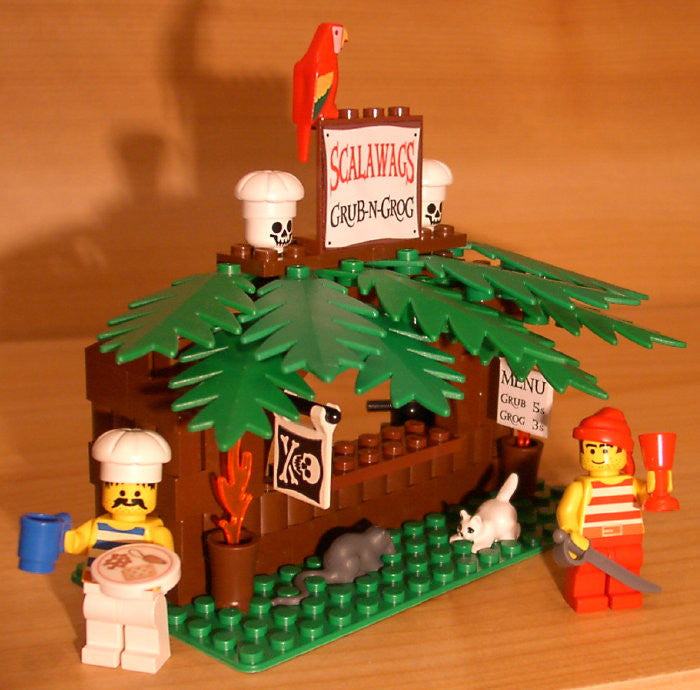 Dan's Custom Scalawags Pirate Cafe (for your LEGO town)
$ 39.50
Currently sold out
Arr! Ye LEGO® pirate minifigs will cross the seven seas for but a morsel of the legendary grub & grog from Dan's custom Scalawags Cafe!
Includes pirate cafe with custom signage, swashbuckling host minifig, scurvy chef minifig, cutlass, cookpot, mug, goblet, plate of grub, parrot, galley cat & bilge rat on shore leave.
Packed with tons of fun details including palm frond roof, pirate flag, menu sign, fire pots & grog barrel.
Serve ye cutthroat customers a custom plate of tasty hard tack, beans & "meat of the day."
Restaurant measures about 5" wide by 3" deep by 4.5" high.
Ships assembled, with no instructions, ready for play or display!
So avast me hearties, look smartly & don't let this one sail away. Ye minifigs will thank ye.
This is an original design available only from DADVENTUREDAN. Dan selects new & quality used LEGO® brand parts & adds custom decals protected with clear acrylic to build unique, fun additions to your LEGO® town or train layout. The custom decals are great for light play or display but won't withstand abusive handling or soaking in the tub. Your set will ship assembled & carefully packed, with no instructions.
IMPORTANT LEGAL STUFF: Sets contain small parts & are unsuitable for children under three due to choking hazard. LEGO® is a trademark of the LEGO® Group of companies which does not sponsor, authorize or endorse Dan's fan-built custom creations.