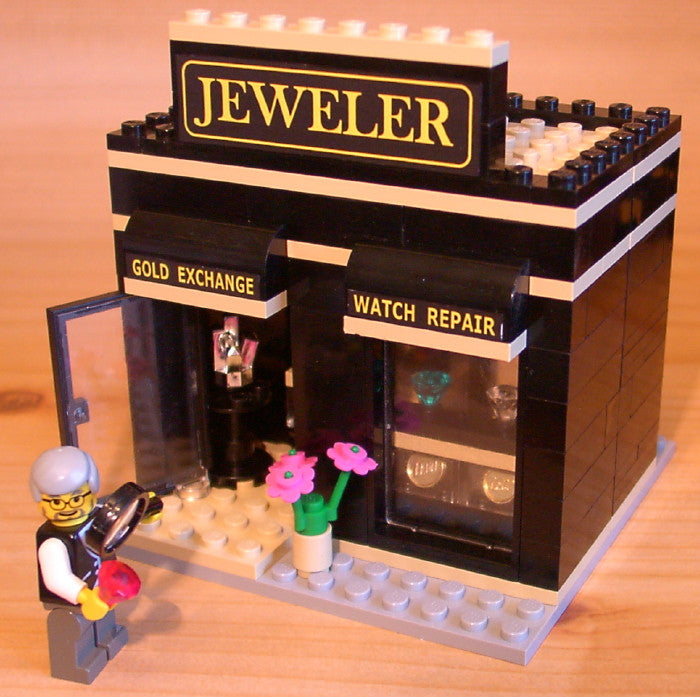 Dan's Custom Jeweler's Shop (for your LEGO town)
$ 89.50
Currently sold out
Are the bandit minifigs in your LEGO® town looking for a new establishment to target? They'll love this cool little custom creation!
Includes jeweler's shop, friendly jeweler minifig with magnifying glass & plenty of loot.
Packed with tons of fun details including display cases with jewels & coins, panic button, security camera, AC unit, custom cash register & even a minifig-scale security height chart to help your law enforcement minifigs track down suspects.
Closed configuration has a compact 12x12 stud footprint so you can easily incorporate it into your LEGO® town or train layout.
Shop also hinges fully open in case you prefer a longer streetside facade, and for easy access to the interior for set-up or play.
Closed shop measures about 3.75" wide by 3.75" deep by 4.25" high.
Ships assembled, with no instructions, ready for play or display!
If you like the Jeweller's Shop, check out Dan's other Main Street Shops like the Barber Shop & Newspaper Print Shop. Your minifigs will thank you.
This is an original design available only from DADVENTUREDAN. Dan selects new & quality used LEGO® brand parts & adds custom decals protected with clear acrylic to build unique, fun additions to your LEGO® town or train layout. The custom decals are great for light play or display but won't withstand abusive handling or soaking in the tub. Your set will ship assembled & carefully packed, with no instructions.
IMPORTANT LEGAL STUFF: Sets contain small parts & are unsuitable for children under three due to choking hazard. LEGO® is a trademark of the LEGO® Group of companies which does not sponsor, authorize or endorse Dan's fan-built custom creations.